Lithium-ion battery expert Martin Kepman forecasts that in the next few years, there will be a large demand for a Canadian and U.S. rare mineral supply chain. This is especially true for manganese, which is an important mineral for electric vehicles powered by lithium-ion batteries and energy storage devices. The current electric car and EV revolution has shown manganese to be an essential mineral in all future lithium-ion batteries, with the potential to produce more power, have more stability, with larger capacities, and be safer for consumers.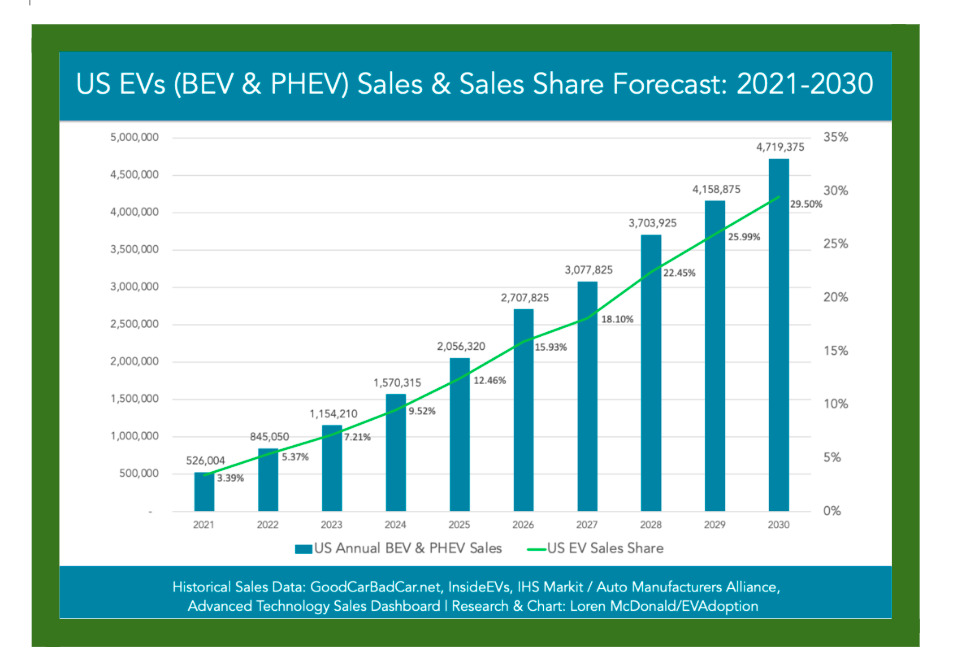 Source https://evadoption.com/ev-sales/ev-sales-forecasts/
Martin recently released a report on the future of the lithium-ion battery market. Here are some highlights from his report. 
Kepman is bullish on the lithium-ion battery market and believes that it will continue to grow at a rapid pace. He cites several reasons for this growth, including the increasing demand for hybrid and electric vehicles and the need for energy storage solutions. Kepman also predicts that prices for lithium-ion batteries will continue to decline in the coming years.
This will make them more affordable for consumers and businesses alike. Finally, Kepman believes that innovation in the lithium-ion battery industry will lead to new applications.
See full report here
 
https://whitelabelpr.live/Martin-Kepman-Lithium-ion-Battery-Expert
About Manganese X Energy
Manganese X Energy Corp. (TSXV: MN) (FSE: 9SC2) (OTC:QB:MNXXF) (FRANKFURT:9SC2) with its head office in Montreal QC, owns 100% of the Battery Hill property project (1,228 hectares) located in New Brunswick Canada. Battery Hill is strategically situated 12 kilometers from the US (Maine) border, near existing infrastructures (power, railways, and roads). It encompasses all or part of five manganese-iron zones, including Iron Ore Hill, Moody Hill, Sharpe Farm, Maple Hill and Wakefield. According to Brian Way's (2012) master's thesis on the Woodstock manganese occurrences, that includes Battery…
KISS PR Podcast Story Source link
This is the "wpengine" admin user that our staff uses to gain access to your admin area to provide support and troubleshooting. It can only be accessed by a button in our secure log that auto generates a password and dumps that password after the staff member has logged in. We have taken extreme measures to ensure that our own user is not going to be misused to harm any of our clients sites.